Arrow Bank offers a slower pace of life and therefore the park is peaceful - a real haven of relaxation.
The river Arrow gently winds its way through the black & white Tudor village, and passes through Arrow Bank Holiday Park Herefordshire, giving the opportunity to catch a trout or two. The Mayfly hatch on the river and, should you be lucky enough to see it, it can only be described as spectacular.
Take a five minute walk to the village pub and enjoy home-cooked meals, washed down with a gin and tonic or a glass of ale, or enjoy a game of bowls on the green by the church. The villagers are very friendly, and love to stop and chat.The area offers a variety of attractions; the unspoilt countryside.
Fishing on park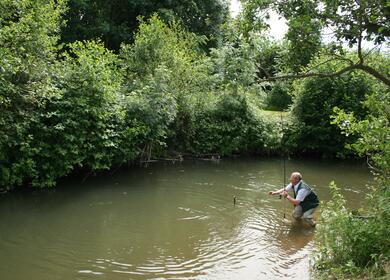 The River Arrow, meandering through the park, is a delight to fish. Proof that it's not always about catching the one that got away, passing the time in delightful surroundings can be just as rewarding.
There are a number of species to fish; Trout and Grayling are plentiful and also plenty of Chubb in the Arrow. There are some Dace and a few small Pike in the lower half of the river towards Leominster.
Fishing from March 14th to June 16th is limited to fly fishing only. From June 16th to March 14th it is Course Fishing Open Season.
Surrounding the park
Hereford cathedral is right on our doorstep (30 mins), housing many treasures including the world-famous Mappa Mundi

Leominster is nearby with its olde worlde shops and market place

The black and white villages of Eardisland, Kingsland, Weobley, Pembridge, Eardisley, Dilwyn and Lyonshall offer endless possibilities to explore a time gone by. Each village has its own attractions and the area is somewhat unique in England – all are a must for visiting.

The castle town of Ludlow, with an abundance of history, is perfect for a day trip. With annual food festivals and a great market there are also boutique shops and independent cafes and restaurants to treat yourself.
Walks are plentiful, as is cycling the quiet lanes. The history of the Marches is everywhere you look with fortified houses and castles, hill forts and Roman road
The National trust has several properties in the area as does English Heritage. The market towns have fascinating architecture and independent shops that are seldom seen in the larger towns and cities.
Woodland walks or sitting by a babbling river is only natural in such surroundings. There are dog friendly pubs and cafes so you can bring your best friend too. We even have a dog wash on park to keep the muddy paws at bay!
I wanted to go to the sea but my husband didn't ! So we went to with his choice to Arrow Bank Country Holiday Park in Eardisland, what a beautiful CLEAN site but best of all the Dogs totally loved it too !!